Site News - 8/2 New Sponsor: Swedish Dynamics | 7/29 Last Call for T-Shirts - Order Now!
---
[General | Members | C900 | 9000 | NG900 & OG93 | 93 | 95 | NG95 | 99 | Sonett | Vintage Models | Performance | Detail | Clubs & SOC | Other Cars | FAQs | Gifts | Member Photo Galleries | Member Directory | Classifieds | Service/Mechs | Manuals | *Buddy Registry | *Mileage Registry | Polls | What's New | Raffle | Photo of the Month | Sponsors]
---
[Main 95 Bulletin Board | BBFAQ | Prev by Date | Next by Date | Post Followup ] Member Login / Signup - Members see fewer ads. - Latest Member Gallery Photos
Re: Comm structure Posted by Ro in Woodbridge [Email] (more from Ro in Woodbridge) on Mon, 6 Dec 2021 09:55:22

In Reply to: Re: Comm structure, TML

[Profile/Gallery] , Fri, 3 Dec 2021 08:56:23 Members do not see ads below this line. - Help Keep This Site Online - Signup
---
Season's greetings,
I fail to understand your interpretation and reasoning as to how DICE(628) is directly connected to EHU(353) via DLC(445) connector when under normal operations, 445 is not occupied and there is nothing connected to it.
On all models, Tech2 connects to DICE through single wire/line K-Line through 445's pin 7 and taps in to I-Bus in DICE via pin 28. Later all 2008+ 9-5 models received CAN+/- pinouts to DLC pin 6 and pin 14 as more modules were added eg. TPMS and K-line was insufficient to carry out more data. Pin 6 and pin 14 on DLC connects directly to MIU where P-bus and I-bus can be tapped into through CAN +/- network.
Back to wiring diagram from my previous post. All I-bus communication including theft protection from/to DICE and EHU is accomplished through SID. Have a look for yourself, drawing E367D203... GN and WH or CAN network wires are used. I am only going by what electrical diagrams show me. SID communicates with EHU on single line through pin 1 on SID and pin 13 on EHU side.
All of the following modules (DICE), (TWICE), (SID), (EHU) as far as I know must have same VIN to work and have any communication.
FROM WIS >>> "The audio system checks at regular intervals that the theft protection information is correct (if "marriage" has occurred). This applies also if +30 is temporarily disconnected. If the information is not correct the display shows "LOCKED"."
EHU checks for correct theft protection from SID as SID is the gateway between EHU and DICE as per wiring diagram. I am certain that when SID gets theft protection code from EHU and compares it to theft protection code of DICE, codes don't match and SID locks out the radio.
Good luck,
Are you in GTA, Ontario area? PM me if you'd like to meet.
Cheers,




posted by 24.246.45...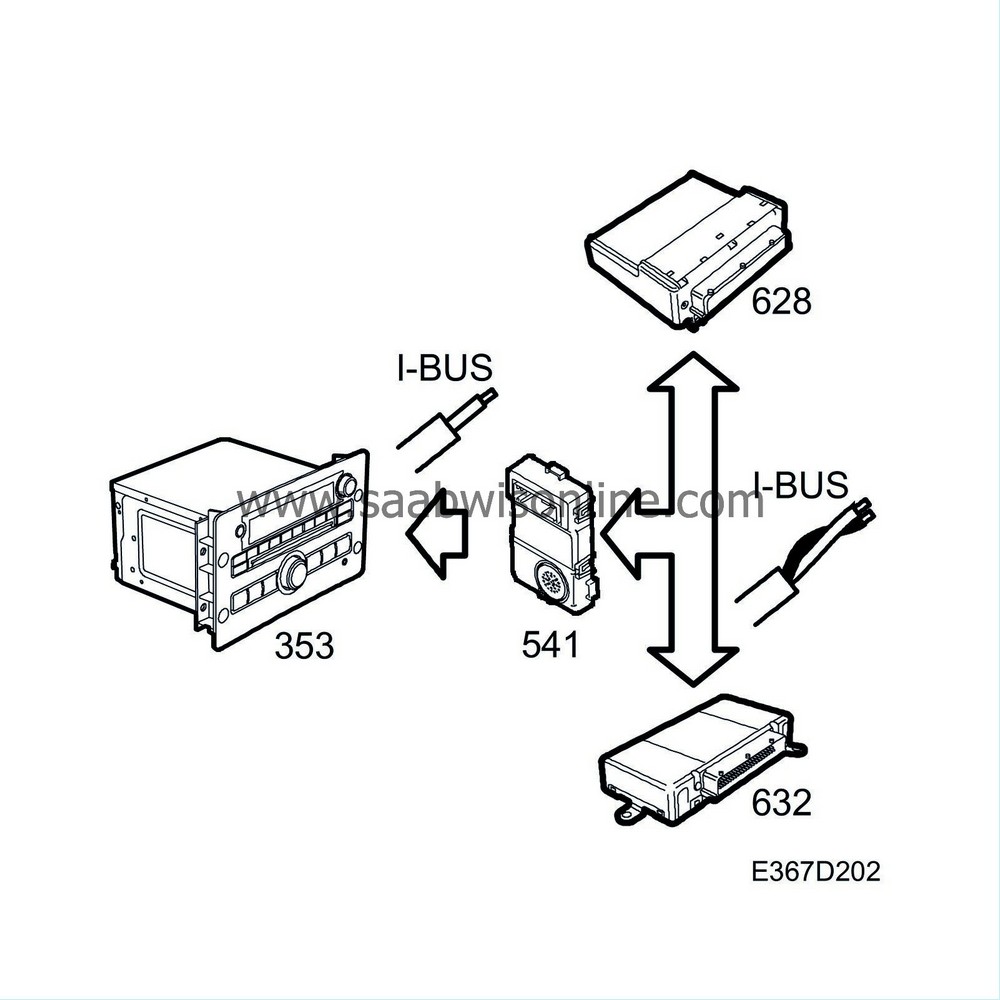 ---
Posts in this Thread:
Members do not see ads below this line. - Help Keep This Site Online - Signup
---
Post a Followup
No Site Registration is Required to Post - Site Membership is optional (Member Features List), but helps to keep the site online
for all Saabers. If the site helps you, please consider helping the site by becoming a member.

---
---
| | | | | |
| --- | --- | --- | --- | --- |
| StateOfNine.com | Swedish Dynamics | SaabClub.com | Jak Stoll Performance | Button Ad Available |
Random Saabnet.com Member Gallery Photos (Click Image)
---
This is a moderated bulletin board - Posting is a privilege, not a right. Unsolicited commercial postings are not allowed (no spam). Please, no For Sale or Wanted postings, SERIOUSLY. Classifieds are to be listed in The Saab Network Classifieds pages. This is a problem solving forum for over 250,000 Saab owners, so expect to see problems discussed here even though our cars are generally very reliable. This is not an anything goes type of forum. Saabnet.com has been a moderated forum since 1988. For usage guidelines, see the Saabnet.com Mission and Purpose Page. Please remember that you are not anonymous. Site Contact | Site Donations | Other Sites by SP - Poverty2Prosperity.org | Run Club Menlo Park | ScreenBot

---
Site Members do not see red text instructions, bottom of the page anchor ads, or box ads.
Click here to see all the Site Membership Benefits!