---
[General | Members | C900 | 9000 | NG900 & OG93 | 93 | 95 | NG95 | 99 | Sonett | Vintage Models | Performance | Detail | Clubs & SOC | Other Cars | FAQs | Gifts | Member Photo Galleries | Member Directory | Classifieds | Service/Mechs | Manuals | *Buddy Registry | *Mileage Registry | Polls | What's New | Raffle | Photo of the Month | Sponsors]
---
[Main 95 Bulletin Board | Post Followup | BBFAQ ] [ Prev by Date ] [ Next by Date ] Member Login / Signup [Latest Member Gallery Photos]
Re: Park Assist malfunction Posted by Ro in Woodbridge [Email] (more from Ro in Woodbridge) on Sun, 6 Dec 2020 20:18:12

In Reply to: Park Assist malfunction, Louis H, Thu, 3 Dec 2020 10:05:15
---
Greetings,

It's not easy to diagnose from the get go however, step by step it can be narrowed down.

I have to dig down further, but initially looking at the SPA sys in WIS, Reverse Gear On/OFF from TCM sends information to DICE module to set SPA in status mode Active.
Further in WIS... TCM on P-BUS sends a message through MIU on I-BUS to DICE that it is in R gear, reversing light switch is on and SPA status mode becomes Active.
TCM (P-BUS) >> MIU(GATEWAY) >> DICE (I-BUS) >> SPA
When it happens and SPA becomes active, I would look at live data from TCM via Tech2 to see if DICE is receiving ON from TCM (reversing-light switch)and if at all gear selection changes to R and reverse lights at the back come on. I would then look and troubleshoot reversing-light switch 31 on the transmission.
Then with IGN off I would look at SPA module 630 in the trunk (Switch A) 5 pin connector and with multimeter ring WH wire pin 4 and GN wire pin 5 all the way to DICE module moving wire harness at several spots along the way.
There is a list of troubleshooting tests you can perform by using WIS and various wiring diagrams.
I hope my initial information helps.
Cheers,

Wiring Diagram SPA
https://saabwisonline.com/images/9600/img-e6/e6c19-1.jpg



posted by 23.233.83...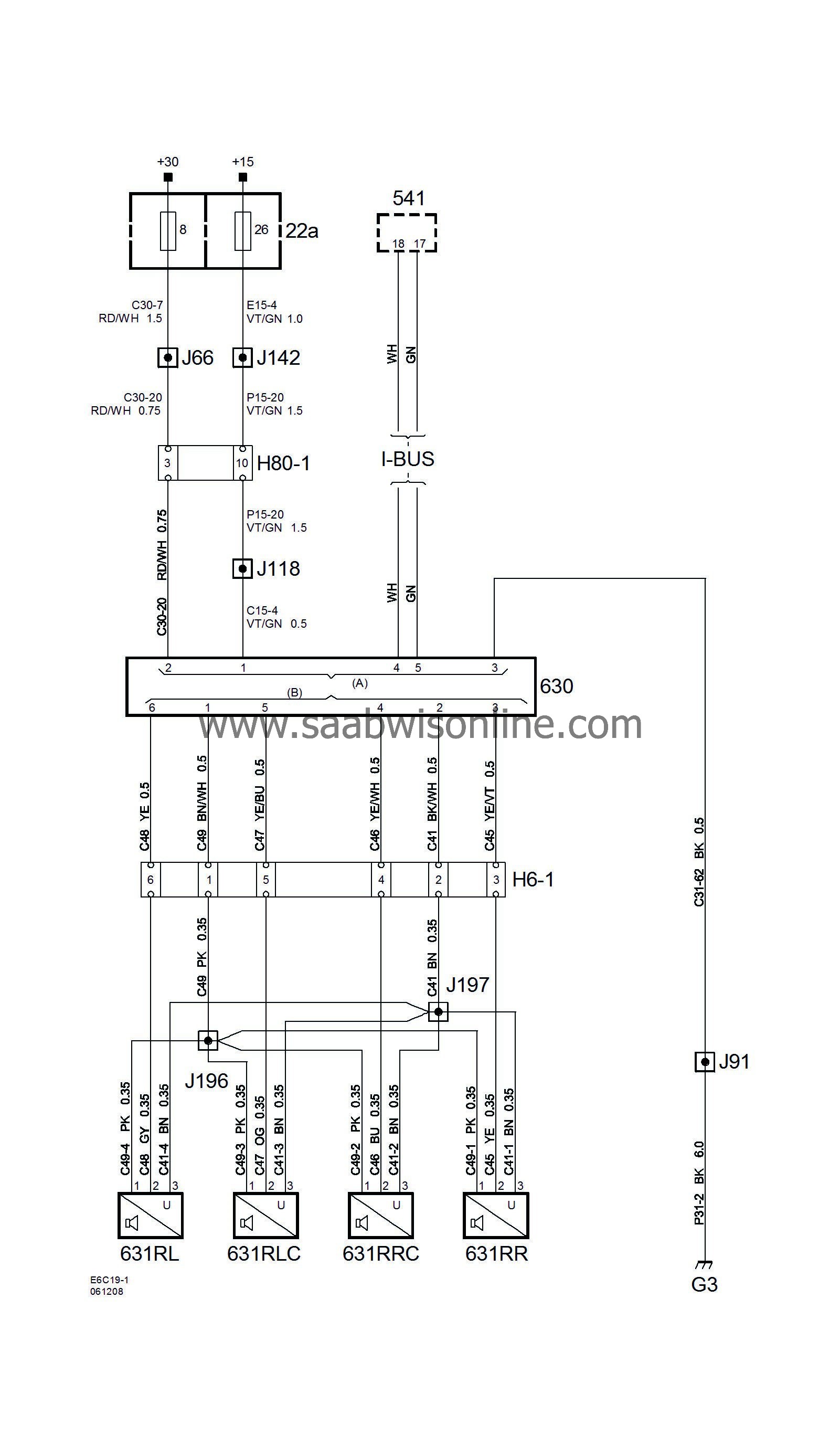 ---
Posts in this Thread:

---
Post a Followup
No Site Registration is Required to Post - Site Membership is optional (Member Features List), but helps to keep the site online
for all Saabers. If the site helps you, please consider helping the site by becoming a member.

---
---

---
This is a moderated bulletin board - Posting is a privilege, not a right. Unsolicited commercial postings are not allowed (no spam). Please, no For Sale or Wanted postings, SERIOUSLY. Classifieds are to be listed in The Saab Network Classifieds pages. This is a problem solving forum for over 250,000 Saab owners, so expect to see problems discussed here even though our cars are generally very reliable. This is not an anything goes type of forum. Saabnet.com has been a moderated forum since 1988. For usage guidelines, see the Saabnet.com Mission and Purpose Page. Please remember that you are not anonymous. Site Contact | Site Donations | Other Sites by SP - Poverty2Prosperity.org
Your address is: 3.238.186.43 - Using CCBot/2.0 (https://commoncrawl.org/faq/) - Logged.
---
Site Members do not see red text instructions, bottom of the page anchor ads, or box ads.
Click here to see all the Site Membership Benefits!