---
[General | Members | C900 | 9000 | NG900 & OG93 | 93 | 95 | NG95 | 99 | Sonett | Vintage Models | Performance | Detail | Clubs & SOC | Other Cars | FAQs | Gifts | Member Photo Galleries | Member Directory | Classifieds | Service/Mechs | Manuals | *Buddy Registry | *Mileage Registry | Polls | What's New | Raffle | Photo of the Month | Sponsors]
---
---
To follow up on this thread:

http://saabnet.com/tsn/bb/NG900/index.html?bID=308657

After comparing a stack of seals, including the factory Koyo seal, I ended up installing a Timken seal. Part of my decision was that deflection of the sealing surface was the greatest with the Timken seal and it gave me confidence, but part of my decision was that I just refused to accept there was only one seal that would work here. *Clearly* the SKF seal is no good, but it just didn't jive that everyone got the part wrong. So, in went the Timken.

The transmission I used was "#2," the second one I purchased used. On its first installation, it did 16 miles before leaking. On the second, it did 8. After installing the Timken seal and putting #2 back in the car, I racked up 380 miles with no further leaks from torque converter. However, within about 150 miles I found the bottom of the transmission case damp after each drive. On one particular 45 mile drive it was downright wet. But not wet from the bellhousing as before, just wet on the bottom.

I jacked the car up I cleaned the transmission REALLY thoroughly, degreasing and wire brushing everything then hosing it down with brake cleaner. After just a few miles, I tracked the source of the wetness to this area: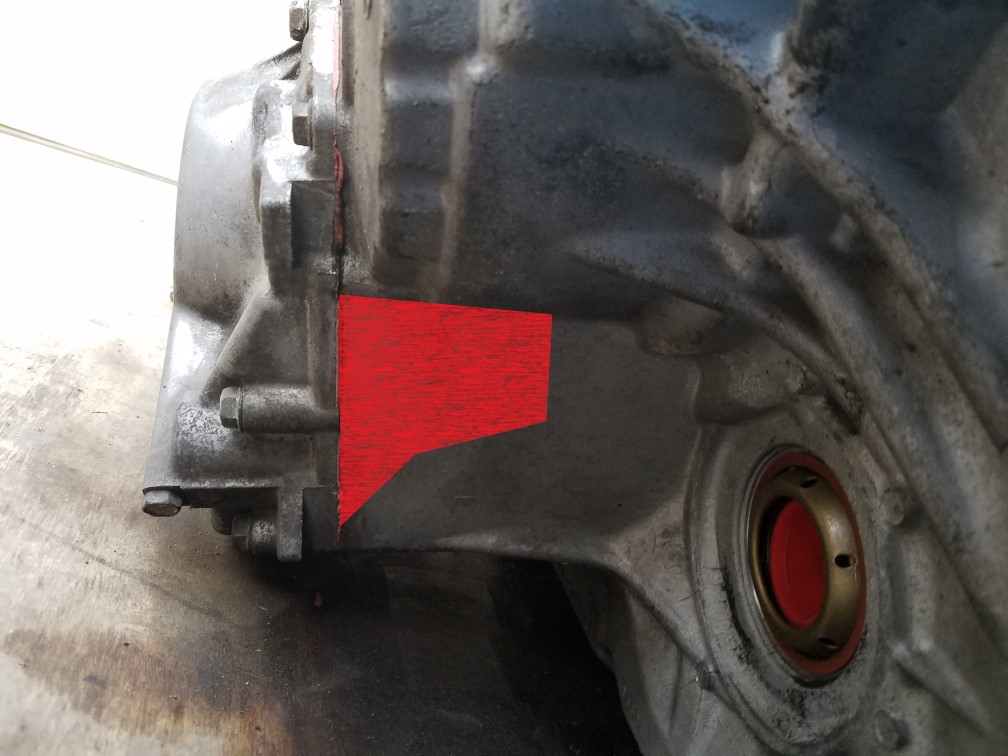 It appeared the transmission was leaking from the end cover! Not a prodigious leak as the torque converter seal had, but substantial enough it could not be ignored. I tightened the bolts along the back of the side cover and (I'm embarrassed to admit) applied some Reinzosil RTV to the outside of the joint. After a few more drives, I found that area was still damp, but less so - it seemed I was on the right track.

I then tightened the bolts along the top of the end cover, and applied a bit more RTV in the yellow area: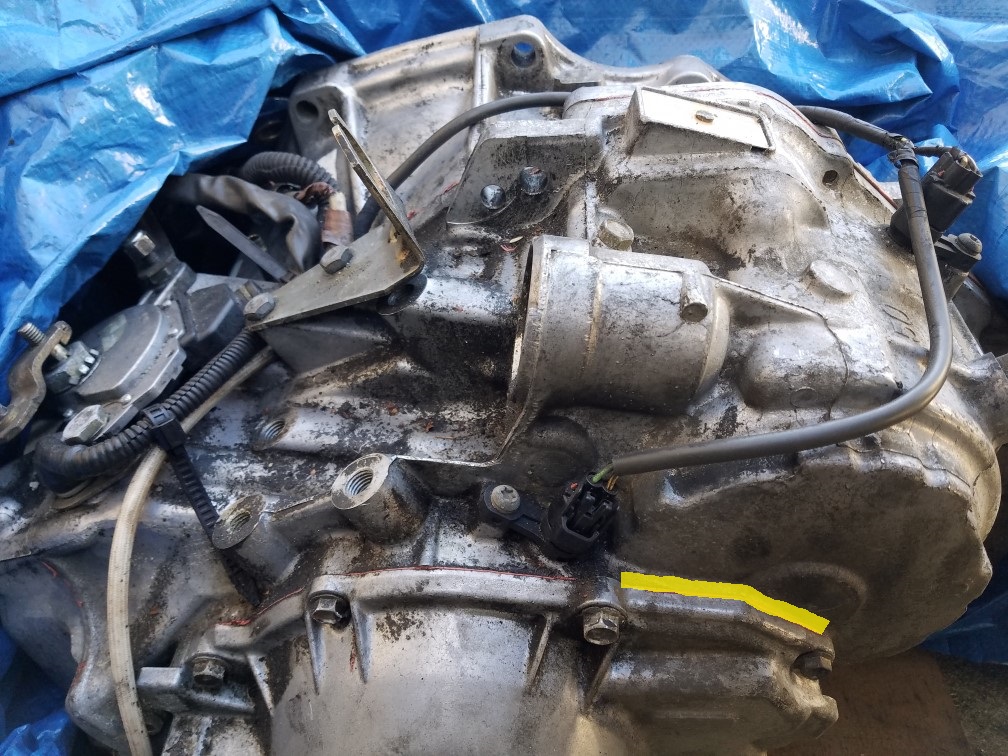 That was at 380 miles, the car is now at 800 miles with no further leaks. I'm not particularly proud of this repair: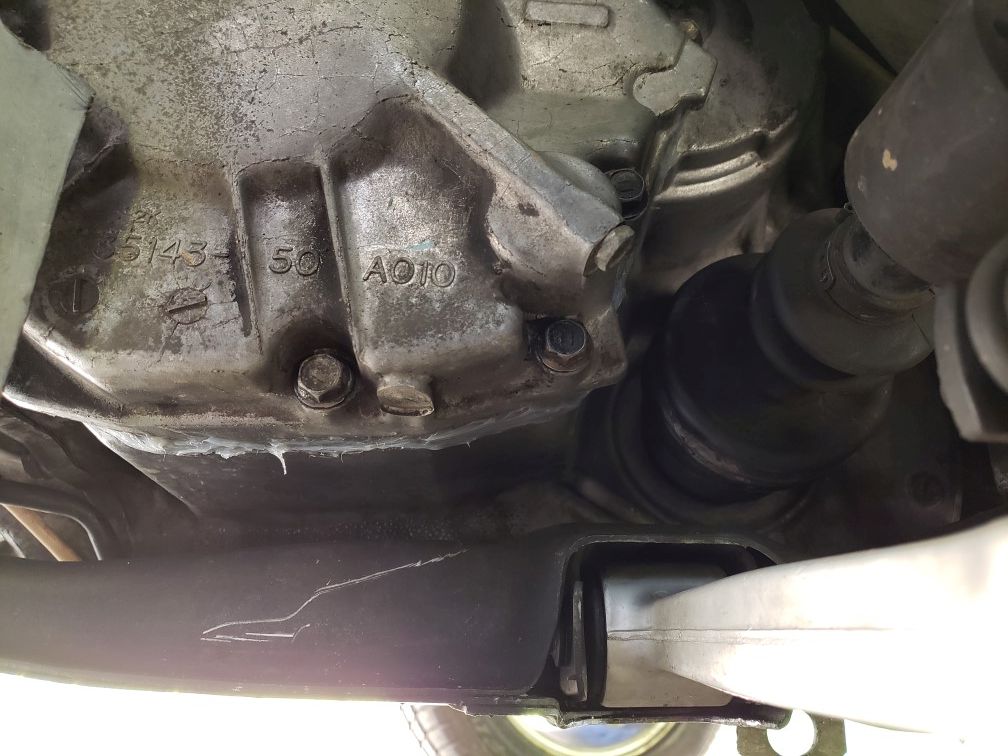 But it seems effective. Perhaps less so the RTV and moreso some additional torque on the bolts - I really don't know.

The core takeaway is that a transmission that couldn't even make it to the store and back with the SKF 14772 seal has had *zero* problems with the Timken seal. The end cover is a secondary issue - the bottom line is that the SKF seal is garbage and should be avoided. Whether you go Corteco, National, Timken or Koyo is up to you... just not SKF.

I'm going to continue to drive this car for a month or so before passing it on. I'm pretty confident right now the issue is solved, but I have slight doubt over the end cover. We'll see where that goes.

posted by 12.195.130...

---
Posts in this Thread:

---
Post a Followup
No Site Registration is Required to Post - Site Membership is optional (Member Features List), but helps to keep the site online
for all Saabers. If the site helps you, please consider helping the site by becoming a member.

---
---

---
This is a moderated bulletin board - Posting is a privilege, not a right. Unsolicited commercial postings are not allowed (no spam). Please, no For Sale or Wanted postings, SERIOUSLY. Classifieds are to be listed in The Saab Network Classifieds pages. This is a problem solving forum for over 250,000 Saab owners, so expect to see problems discussed here even though our cars are generally very reliable. This is not an anything goes type of forum. Saabnet.com has been a moderated forum since 1988. For usage guidelines, see the Saabnet.com Mission and Purpose Page. Please remember that you are not anonymous. Site Contact | Site Donations | Other Sites by SP - Poverty2Prosperity.org
Your address is: 35.175.201.14 - Using CCBot/2.0 (https://commoncrawl.org/faq/) - Logged.
---


v.190714

Site Members do not see red text instructions, bottom of the page anchor ads, or box ads.
Click here to see all the Site Membership Benefits!