Site News - 8/2 New Sponsor: Swedish Dynamics | 7/29 Last Call for T-Shirts - Order Now!
---
[General | Members | C900 | 9000 | NG900 & OG93 | 93 | 95 | NG95 | 99 | Sonett | Vintage Models | Performance | Detail | Clubs & SOC | Other Cars | FAQs | Gifts | Member Photo Galleries | Member Directory | Classifieds | Service/Mechs | Manuals | *Buddy Registry | *Mileage Registry | Polls | What's New | Raffle | Photo of the Month | Sponsors]
---
[Main 95 Bulletin Board | BBFAQ | Prev by Date | Next by Date | Post Followup ] Member Login / Signup - Members see fewer ads. - Latest Member Gallery Photos
Not necessarily true Posted by Ro in Woodbridge [Email] (more from Ro in Woodbridge) on Thu, 17 Feb 2022 09:45:26

In Reply to: Have You Checked The Alternator Output?, FredKolb12
[Profile/Gallery] , Thu, 17 Feb 2022 05:02:05 Members do not see ads below this line. - Help Keep This Site Online - Signup
---
A bad cell in the battery, ie battery's(11VDC) or under will not allow to start a car in the first place.

Six Zener diodes in the bridge are used to redlctify alternating voltage in Delta wound stator windings. A dead cell in the battery would not have anything to do with six Zener diodes.

In a good alternator, it would still supply above 12VDC to the battery terminals even if battery is not connected or isn't there.

The charging indicator lamp is also influenced by the voltage from the stator winding via terminal D+ on the regulator. The difference in voltage between the two sides of the charging indicator lamp levels out and the lamp goes out. In this way, an indication is obtained that the generator is charging.


posted by 24.246.45...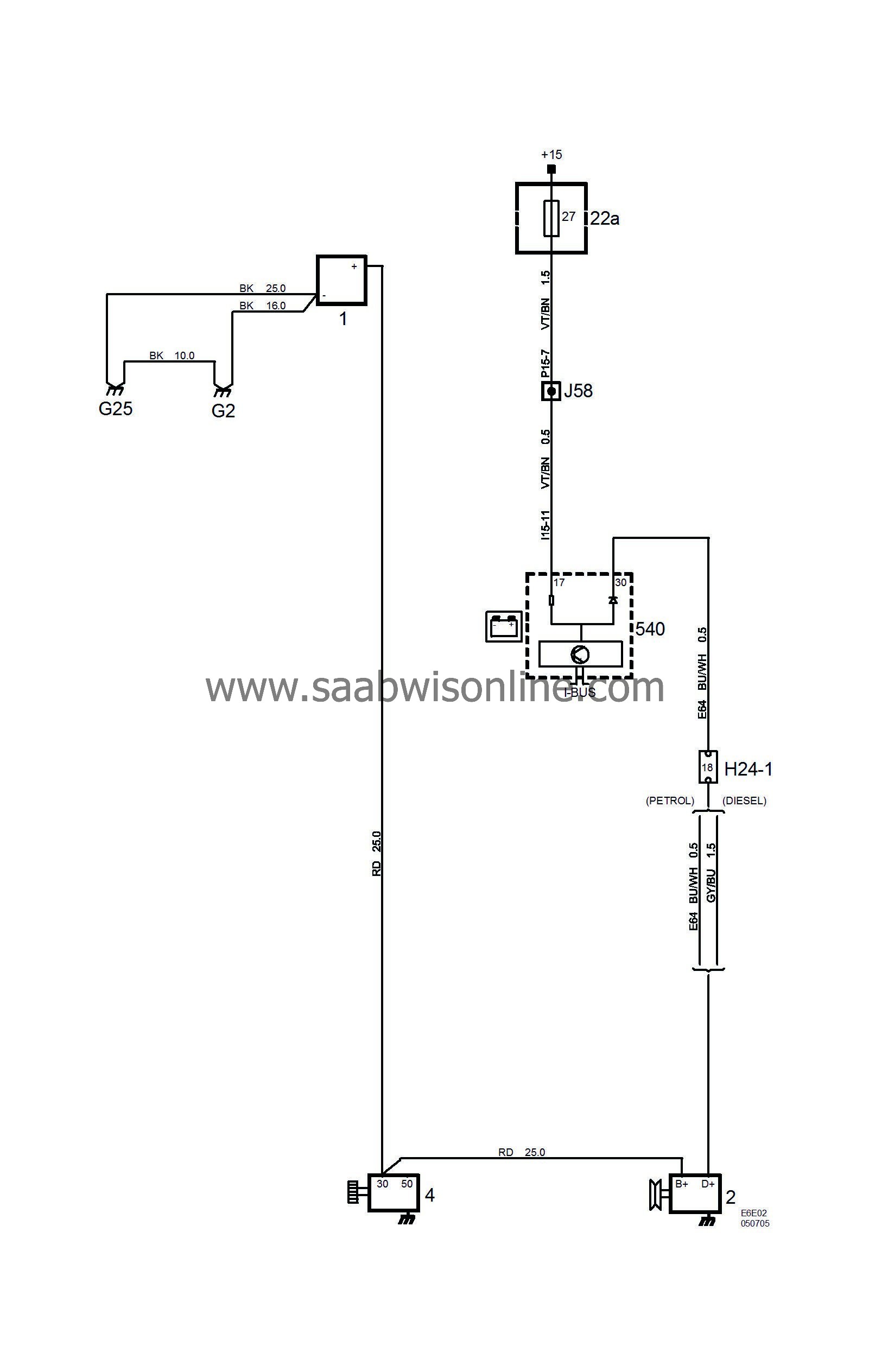 ---
Posts in this Thread:

Battery - Earth leak?, MarkFr , Wed, 16 Feb 2022 01:02:34

Have You Checked The Alternator Output?, FredKolb12 , Thu, 17 Feb 2022 05:02:05
My story, adl6009 , Wed, 16 Feb 2022 11:58:21
Re: Battery - Earth leak?, Paul from Palmyra, PA, Wed, 16 Feb 2022 07:39:20
Members do not see ads below this line. - Help Keep This Site Online - Signup
---
Post a Followup
No Site Registration is Required to Post - Site Membership is optional (Member Features List), but helps to keep the site online
for all Saabers. If the site helps you, please consider helping the site by becoming a member.

---
---
| | | | | |
| --- | --- | --- | --- | --- |
| StateOfNine.com | Swedish Dynamics | SaabClub.com | Jak Stoll Performance | Button Ad Available |
Random Saabnet.com Member Gallery Photos (Click Image)
---
This is a moderated bulletin board - Posting is a privilege, not a right. Unsolicited commercial postings are not allowed (no spam). Please, no For Sale or Wanted postings, SERIOUSLY. Classifieds are to be listed in The Saab Network Classifieds pages. This is a problem solving forum for over 250,000 Saab owners, so expect to see problems discussed here even though our cars are generally very reliable. This is not an anything goes type of forum. Saabnet.com has been a moderated forum since 1988. For usage guidelines, see the Saabnet.com Mission and Purpose Page. Please remember that you are not anonymous. Site Contact | Site Donations | Other Sites by SP - Poverty2Prosperity.org | Run Club Menlo Park | ScreenBot

---
Site Members do not see red text instructions, bottom of the page anchor ads, or box ads.
Click here to see all the Site Membership Benefits!