---
[General | Members | C900 | 9000 | NG900 & OG93 | 93 | 95 | NG95 | 99 | Sonett | Vintage Models | Performance | Detail | Clubs & SOC | Other Cars | FAQs | Gifts | Member Photo Galleries | Member Directory | Classifieds | Service/Mechs | Manuals | *Buddy Registry | *Mileage Registry | Polls | What's New | Raffle | Photo of the Month | Sponsors]
---
[Main Saab Model 99 Bulletin Board | Post Followup | BBFAQ ] [ Prev by Date ] [ Next by Date ] Member Login / Signup [Latest Member Gallery Photos]
Completed pickup assembly Posted by Clarence Donath [Email] (more from Clarence Donath) on Thu, 23 Jul 2015 08:02:35

In Reply to: Re: Fuel Pump Pickup connector, Gary Stottler
[Profile/Gallery] , Thu, 9 Jul 2015 05:35:57
---
Thank you for the very informative reply Gary.

Here is my completed assembly using the early 900 adapter. This gives me the prescribed 8.82" length -- at least as it's documented in my 1975 service manual. I'll find out when I go to install it in my 1978 tank.

Also pictured (in the jar) is the slightly misshapen original adapter I found in the tank.

All I need to find now are some zip ties that can handle today's fuel. I'm going to try pure nylon and watch its endurance over time -- in a vented fuel-filled jar -- along with a piece of the bottom mount rubber, cut from its useless baffle.

Thank you for the kind offer for some of your hose. It may not be necessary.

posted by 69.147.19...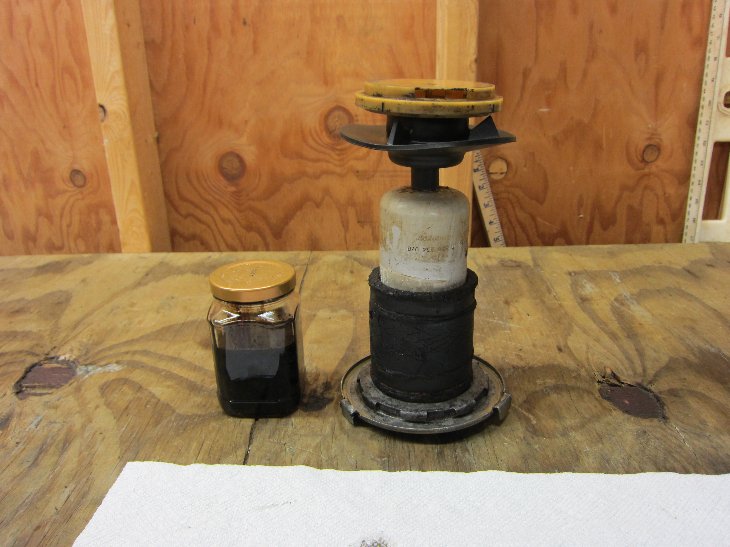 ---
Posts in this Thread:

---
Post a Followup
No Site Registration is Required to Post - Site Membership is optional (Member Features List), but helps to keep the site online
for all Saabers. If the site helps you, please consider helping the site by becoming a member.

---
---

---
This is a moderated bulletin board - Posting is a privilege, not a right. Unsolicited commercial postings are not allowed (no spam). Please, no For Sale or Wanted postings, SERIOUSLY. Classifieds are to be listed in The Saab Network Classifieds pages. This is a problem solving forum for over 250,000 Saab owners, so expect to see problems discussed here even though our cars are generally very reliable. This is not an anything goes type of forum. Saabnet.com has been a moderated forum since 1988. For usage guidelines, see the Saabnet.com Mission and Purpose Page. Please remember that you are not anonymous. Site Contact | Site Donations | Other Sites by SP - Poverty2Prosperity.org
Your address is: 3.215.133.185 - Using CCBot/2.0 (https://commoncrawl.org/faq/) - Logged.
---
Site Members do not see red text instructions, bottom of the page anchor ads, or box ads.
Click here to see all the Site Membership Benefits!