---
[General | Members | C900 | 9000 | NG900 & OG93 | 93 | 95 | NG95 | 99 | Sonett | Vintage Models | Performance | Detail | Clubs & SOC | Other Cars | FAQs | Gifts | Member Photo Galleries | Member Directory | Classifieds | Service/Mechs | Manuals | *Buddy Registry | *Mileage Registry | Polls | What's New | Raffle | Photo of the Month | Sponsors]
---
---
I've moved a car to CA and it was quite different.

Drove my '93 9000 Aero from Montana (I owned it, and it had been registered in MT) to CA in 2006. Registration consisted of paying for license plates and registration for the coming year, as well as a visual inspection and emissions test. Total came to something close to $200. (Note: I had previously lived in CA with the same car, so I did pay "use tax" on the purchase price when I first bought the car: tax on ~$5000 isn't terrible. I did not have to pay registration fees for years the car was not in CA.)

Once the car was registered in CA, it required an annual registration fee of about $80, plus an every-other year emissions inspection (tail pipe sniffer and fuel vapor system check).

Both my current Saabs (See below) cost less than $100 per year to keep registration current, and both have to have an emissions system check every other year (some counties do not require this) which on OBD-II cars consists of plugging it in and checking to see that all systems are "go". That costs me ~$65 per inspection.

I do know that counties vary on this stuff, and I HATE the fact that every time a car is sold, the new owner pays "use tax," even though tax has been paid on that very piece of equipment at least once. (They can't call it sales tax because you can't tax something twice... but the use tax fee is identical to the sales tax in the zip code you live in, so... )

Cheers everyone!

~Peter in soaking wet and snow-covered California!

Photo: Kirkwood ski area.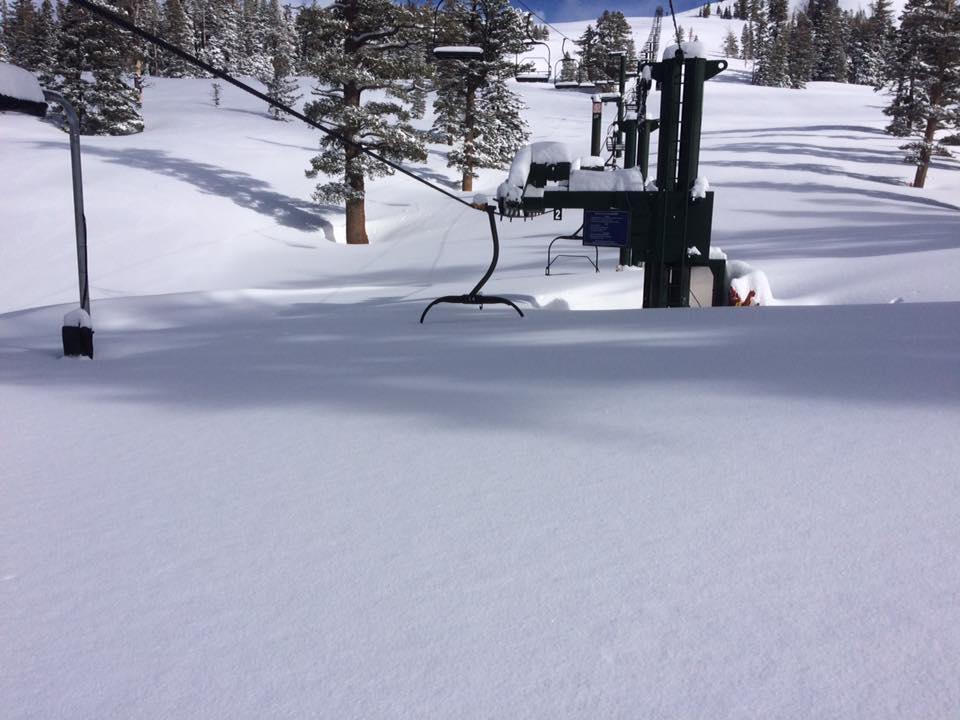 ->Posting last edited on Wed, 8 Feb 2017 08:13:56.



_______________________________________
Current:
'06 9-5 Combi, AT, Polar/Black
Past:
'03 9-5 Aero Wagon, AT, Steel/Charcoal
'00 9-3 Viggen, 5D, Silver/Black
'93 9000 Aero, 5MT, Cirrus/Black
'04 9-5 Aero Wagon, AT, Nocturne/Granite
'86 900 SPG, 5MT, Edwardian/Buffalo Grey
---
Posts in this Thread:

---
Post a Followup
No Site Registration is Required to Post - Site Membership is optional (Member Features List), but helps to keep the site online
for all Saabers. If the site helps you, please consider helping the site by becoming a member.

---
---

---
This is a moderated bulletin board - Posting is a privilege, not a right. Unsolicited commercial postings are not allowed (no spam). Please, no For Sale or Wanted postings, SERIOUSLY. Classifieds are to be listed in The Saab Network Classifieds pages. This is a problem solving forum for over 250,000 Saab owners, so expect to see problems discussed here even though our cars are generally very reliable. This is not an anything goes type of forum. Saabnet.com has been a moderated forum since 1988. For usage guidelines, see the Saabnet.com Mission and Purpose Page. Please remember that you are not anonymous. Site Contact | Site Donations | Other Sites by SP - Poverty2Prosperity.org
Your address is: 34.204.168.209 - Using CCBot/2.0 (https://commoncrawl.org/faq/) - Logged.
---
Site Members do not see red text instructions, bottom of the page anchor ads, or box ads.
Click here to see all the Site Membership Benefits!