The banner above is an advertisment - if it asks you to download software, please ignore.
Site News - 1/6 Saab Owners' Convention 2023
---
[General | Members | C900 | 9000 | NG900 & OG93 | 93 | 95 | NG95 | 99 | Sonett | Vintage Models | Performance | Detail | Clubs & SOC | Other Cars | FAQs | Gifts | Member Photo Galleries | Member Directory | Classifieds | Service/Mechs | Manuals | *Buddy Registry | *Mileage Registry | Polls | What's New | Raffle | Photo of the Month | Sponsors]
---
[Main 95 Bulletin Board | BBFAQ | Prev by Date | Next by Date | Post Followup ] Member Login / Signup - Members see fewer ads. - Latest Member Gallery Photos
Nobody Has Yet Mentioned Aero Rear Spring Weakness Posted by K. Daehnke [Email] (more from K. Daehnke) on Fri, 22 Sep 2017 14:31:19

In Reply to: I have always had Aeros and don't find them that stiff, LAS
[Profile/Gallery] , Wed, 20 Sep 2017 12:41:25 Members do not see ads below this line. - Help Keep This Site Online - Signup
---
Don't reject a nice Aero because of this, but be aware....Make sure you look for rear tire inner edge wear or cupping. If severe enough you'll feel/hear it when driving. I have had this on my 1999 9-5 after swapping out the stock suspension to an Aero spring/shock setup (keeping the standard 16" wheels). The springs seems to sag over the years and the slight negative camber (wheels/tires tilting in at the top) intended for the rear tires increases beyond spec to the point of such tire wear. My solution was new Bilstein HD shocks and insertion of shims at the rear wheel hubs to return the camber to more upright and less negative. I put another 60K miles on a new set of Michelins without any such previous inner edge wear. My recently acquired 2008 9-5 Aero with 81 K miles shows some inner rear tire problem with Conti Extreme contact tires and stock 17" wheels. I replaced the original Sachs rear shocks (one was leaking and no gas pressure) with a set of Bilstein HD's and will wait to see if the same shim correction will be required. Other 9-5 Aero owners have used spring spacers to combat the spring sag and return their cars to original ride height (distance from metal fender lip bottom edge to bottom of wheel rim), which influences both camber and toe-in geometries of the rear wheel alignment. And as for your original question, I don't find the Aero with 17" wheels to be particularly hard riding with the Conti Extreme contact tires.
Kirk d

posted by 169.253.1...

---
Posts in this Thread:
Members do not see ads below this line. - Help Keep This Site Online - Signup
---
Post a Followup
No Site Registration is Required to Post - Site Membership is optional (Member Features List), but helps to keep the site online
for all Saabers. If the site helps you, please consider helping the site by becoming a member.

---
---
| | | | | |
| --- | --- | --- | --- | --- |
| StateOfNine.com | Swedish Dynamics | SaabClub.com | Jak Stoll Performance | Button Ad Available |
Random Saabnet.com Member Gallery Photos (Click Image)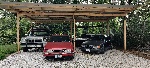 ---
This is a moderated bulletin board - Posting is a privilege, not a right. Unsolicited commercial postings are not allowed (no spam). Please, no For Sale or Wanted postings, SERIOUSLY. Classifieds are to be listed in The Saab Network Classifieds pages. This is a problem solving forum for over 250,000 Saab owners, so expect to see problems discussed here even though our cars are generally very reliable. This is not an anything goes type of forum. Saabnet.com has been a moderated forum since 1988. For usage guidelines, see the Saabnet.com Mission and Purpose Page. Please remember that you are not anonymous. Site Contact | Site Donations | Other Sites by SP - Poverty2Prosperity.org | Run Club Menlo Park | ScreenBot

---
Site Members do not see red text instructions, bottom of the page anchor ads, or box ads.
Click here to see all the Site Membership Benefits!